Diana Padrón (web)
Researcher and independent curator. Coordinator of the first three editions of ON MEDIATION (2013/2014, 2014/2015, 2015/2016). Co-curator of the exhibition "Menos es más", exhibition project for the first edition of the seminar.
Diana Padrón has a degree in Art History by the University of La Laguna (2010). She received her postgraduate degree at the M.A. Advanced Studies of Art History, University of Barcelona with the thesis Cartographic practices antagonist in the Global Era (2011), which was presented as a lecture at the international seminar QUAM 2011 Wikpolis, Cartographies and collective constructions of the social space, organized by the University of Vic and ACVIC Centre of Contemporary Art.
She has given conferences and teaching sessions for University of Barcelona, Escola EINA, Arts Santa Monica, University of Vic and Universität für Musik und Darstellende Kunst Wien. She collaborates with contemporary art journals such as SalonKritik, Interartive, A*Desk and REG|AC (Journal of Global Studies and Contemporary Art). She works as an independent curator, directing various exhibition projects such as Perder el Norte initiative. She has participated in seminars about contemporary thought organized by different centers and international institutions, where she has received teaching by Jacques Rancière, Giorgio Agamben, Walter Mignolo and George Didi-Huberman, inter alia.
---
Pilar Bonet (web)
Historian and art critic, lecturer, curator and writer.
Pilar Bonet works as a critic and art historian, focused on critical art and contemporary design. Bonet is an independent curator of several exhibitions dedicated to Spanish historical avant-garde art and dedicated to contemporary artists. He is also a founding member of the ACM Association and the Arts Coming organization. He has received numerous prizes and research awards.
---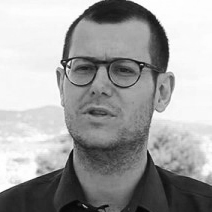 Oriol Fontdevila (web)
Independent curator, writer and researcher.
Oriol Fontdevila is a curator, writer and researcher, focused on artistic practices and education in Barcelona. He is the artistic co-director of Sala d'Art Jove. She is currently researching from a performative approach the interweaving between art and mediation given by the MNCARS, Reina Sofia National Museum and co-curing Performing the Museum, a platform for artistic research.
---