Barcelona Inspira

ON MEDIATION/1 Exhibition at Cercle Artístic Sant LLuc
19th May – 24th May 2014
Vernissage: Monday 19th May, 19:30h
Barcelona inspira proposes a critical reflection about the actual reality of Barcelona, departing from an analysis of the social, political and economical issues raised in the 90s by three exhibitions done at the Fundació Antoni Tàpies: Krysztof Wodiczko. Instrumentos, proyecciones, vehículos, Hans Hacke, Obra Social and La Ciutat de la Gent.
All three exhibitions brought to light the determination to rebuild from the museum a critical portrait of Barcelona within the context of the Olympic and Post-Olympic euphoria in the 90s. Departing from the analysis of a series of problems -like the concentration of corporative capital, the property speculation, the migratory politics and the commodification of the city-, these three exhibitions evinced the configuration of a city model built apart from the public sphere.
Barcelona inspira conjoins a series of projects that reveal the continuity and radicalization of the issues addressed in the Fundació Tapies' exhibitions from two decades ago. Facing the institucional projection of the city image as a place for opportunities, business, benefits and prosperity, the artworks included here show the realities hidden under the official mythology of Barcelona, and pose non-official stories of the city.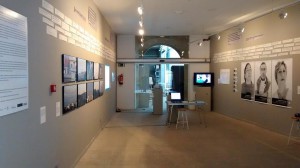 Curatorial Team: Christian Alonso, Ana Isabel Cajiao, Rosa Cruz, Julia Keller, Irene Llàcer, Raquel Machtus, Ada Sbriccoli, Arola Vall and Celia Yonamine
Coordination: Christian Alonso
Partner Institutions: Arxiu Fundació ANTONI TÀPIES (Prototips en Codi Obert – Arts Combinatòries)
Artists: Adrian Melis, Daniela Ortiz y Xose Quiroga, Azahara Cerezo y Mario Santamaría, Sitesize and Enmedio

Related Activities:
Workshop "Enmedio, o cómo interrumpir el relato dominante". 20th May, 19h. This "artivists" group offers us a visual path along the more relevant financier abuses of the last years, and the creative strategies conceived by them as a form of resistance. Art, design, photography as a direct action. 
Presentation of the "Construcció Autònoma" Project, in charge of Joan Vila Puig (Sitesize). 23th May, 18h.
Barcelona inspira
,
Enmedio
,
Exhibition
,
Exposición
,
Project
,
Proyecto
,
Sitesize