Menos es más
ON MEDIATION/1 Exhibition at Cercle Artístic Sant LLuc
12th May – 17th May 2014
Vernissage: Monday 12th May, 19:30h
The recent transfer of the "Encants" Market represents the last evidence of the "Barcelona Model" derive towards urban solutions subjected to regulation and design local laws. The "Menos es más" Project, by means of some artistic interventions within the context  of the Market which question the supposed gain derived from major normalization, tries to make visible the price rising affecting the Market, its growing "touristification", the hierarchic nature of the new distribution of the market stalls and, in general, the loss of value in the supply market.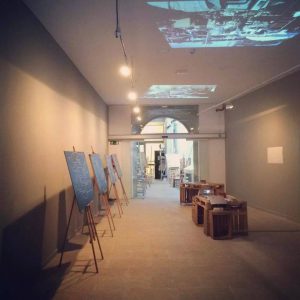 Curatorial Team: Marta Coll and Ferran Cardona with the collaboration of Rosalía Jordán, Inés Jover, Claudia Segura and Haeckel Rivadeneira
Coordination: Diana Padrón
Partner Institutions: iDENSITAT (Dispositivos Post – Seminari Expandit)
Artists: Rafael Tirado, El Pintorofiu, Miquel García, Ferran Cardona and Leonado Luigi Perotto
Related Activities:
Workshop "Menos es más. Metodologías y estrategias de intervención en el espacio público", in charge of Domènec at Cercle Artístic Sant Lluc. From 12th to 16th May, 16-19h. Within the framework of the project iDENSITAT (Dispositivos Post – Seminari Expandit).
Presentation of the Workshop conclusions. Round table with the participation of Rafael Tirado, Pau Faus, Domènec and Ramón Parramón. 17th May, 11-13h.
Domènec
,
Exhibition
,
Exposición
,
iDENSITAT
,
Menos es Más
,
Project
,
Proyecto